"Roofer"

Job Description - Part 1
Basic Job Description:
Cover roofs of structures with shingles, slate, asphalt, aluminum, wood, and related materials. May spray roofs, sidings, and walls with material to bind, seal, insulate, or soundproof sections of structures.
Job Duties and Tasks for: "Roofer"
1) Align roofing materials with edges of roofs.

2) Apply alternate layers of hot asphalt or tar and roofing paper to roofs, according to specification.

3) Apply gravel or pebbles over top layers of roofs, using rakes or stiff-bristled brooms.

4) Apply plastic coatings and membranes, fiberglass, or felt over sloped roofs before applying shingles.

5) Cement or nail flashing-strips of metal or shingle over joints to make them watertight.

6) Cover exposed nailheads with roofing cement or caulking to prevent water leakage and rust.


---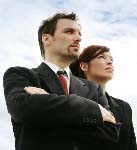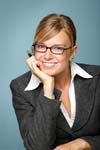 ---
7) Cover roofs and exterior walls of structures with slate, asphalt, aluminum, wood, gravel, gypsum, and/or related materials, using brushes, knives, punches, hammers and other tools.

8) Cut felt, shingles, and strips of flashing; and fit them into angles formed by walls, vents, and intersecting roof surfaces.

9) Cut roofing paper to size using knives; and nail or staple roofing paper to roofs in overlapping strips to form bases for other materials.


---
Is being a "Roofer" your very best career choice?
Our Career Interest Test will show you which careers match your interests.
Our Free Personality Test will show you which careers match your personality and why.
---
10) Glaze top layers to make a smooth finish, or embed gravel in the bitumen for rough surfaces.

11) Inspect problem roofs to determine the best procedures for repairing them.

12) Install partially overlapping layers of material over roof insulation surfaces, determining distance of roofing material overlap using chalk lines, gauges on shingling hatchets, or lines on shingles.

13) Install vapor barriers and/or layers of insulation on the roof decks of flat roofs, and seal the seams.

14) Install, repair, or replace single-ply roofing systems, using waterproof sheet materials such as modified plastics, elastomeric, or other asphaltic compositions.

15) Mop or pour hot asphalt or tar onto roof bases.

16) Clean and maintain equipment.

17) Hammer and chisel away rough spots or remove them with rubbing bricks to prepare surfaces for waterproofing.

18) Punch holes in slate, tile, terra cotta, or wooden shingles, using punches and hammers.

19) Remove snow, water, or debris from roofs prior to applying roofing materials.

20) Set up scaffolding to provide safe access to roofs.

21) Spray roofs, sidings, and walls with material to bind, seal, insulate, or soundproof sections of structures, using spray guns, air compressors, and heaters.

22) Waterproof and damp-proof walls, floors, roofs, foundations, and basements by painting or spraying surfaces with waterproof coatings, or by attaching waterproofing membranes to surfaces.

23) Estimate roofing materials and labor required to complete jobs, and provide price quotes.


More "Roofer" job description...
---
See the Future Outlook and Educational Requirements for "Roofer"
---
Our Most Popular Products
---
---
Holland / RIASEC Career Code: R-C-E SOC: 47-2181.00
---